Smarts + Savings = You + MacGill
MacGill has been in the medical supplies market since 1904 and the school nurse supply market since 1981. We are committed to offering discount prices to nurses across the country. Being a school nurse is tough enough – getting the supplies you need should be easy. That's why we also offer quantity discounts and proudly offer lower prices than our competitors. Plus, we have no minimum order requirement, so you don't have to purchase more than you want or need.
We are dedicated to ensuring that every order you receive arrives to your complete satisfaction. If you are not satisfied with your order, please call us at 1-800-323-2841.
When it comes to shipping, over 94% of the time your order will be shipped within 48 hours, except on backorders and drop-shipped items (couches, stretchers, screens, lamps etc.).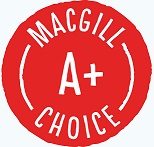 About Our A+ Choice Products
At MacGill, we know you're always looking for the smartest products to fit your budget. That's why we highlight MacGill's A+ Choice products and supplies throughout our website and catalog. Items with the A+ icon offer either great savings or are a smart buy even if they require a bit more of your budget. Look for the A+ icon to make deciding on items from our wide selection even easier!
MacGill's history can be broken down into 3 major periods: the William V. MacGill years (1904-1942), the William F. Haak years (1942-1980), and the current ownership family (1980-Now). Most of what we know about the early history (pre-1980) of MacGill was recorded by Mr. Haak in two different publications, both reproduced below. He seems to be a pretty reliable source of information, considering he worked for the business for 57 years and owned it for the last 38 of them. This first booklet was published in 1954 as a sales tool. We found only one of them in the office. We have simply scanned it and share it here in its original glory.
The History of MacGill - Part II
The second document isn't as polished as the first. Again, we just scanned it and share it here exactly as we found it; one half of one 8.5" x 11" piece of paper folded in half. There was also only one of these in the office.
Since 1980 the current ownership family has continued to operate by the standards set by Mr. MacGill and Mr. Haak: "Fair prices, prompt service, honest dealing." We hope you will consider MacGill for your first aid purchase.