Stories Written by School Nurses
A Long Way From Henry Street Item Number: 72012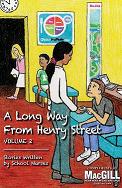 We have finalized A Long Way From Henry Street, Volume 2. However, we will continue to accept story submissions for future editions. If we decide to use your story, you will need to sign a consent form stating that you have given MacGill permission to print your story. After signing and sending MacGill the consent, you still retain the copyright to your story, you are simply giving MacGill permission to use your story.
Submission Guidelines
Stories should have a structured beginning, middle and end. The ideal story will be one that school nurses can relate to and that will inspire them and remind them of why they chose their profession.
Many stories contain personal information about certain individuals—namely students. If your story contains such information, please change the student's name. Sometimes, however, just changing the name is not enough. In sensitive cases, we may not include your name in the byline unless we are assured that you have shown the story to the individual for which personal information was revealed.
Stories may be submitted via e-mail or regular mail. Send e-mail to mbirch@macgill.comwith the subject "Henry Street Stories."
Alternatively, mail us your story at:

Henry Street Stories
MacGill Discount School Nurse Supplies
1000 North Lombard Road
Lombard, IL, 60148

Mailed story submissions should be type written.
Include a title for your story, with your name and contact information on page one of the story.
Stories should range in length between 200 and 1500 words.
Make a copy of your story before sending, as we will not return your story.
If you wish, you may submit more than one story.
Stories will be accepted for an indefinite period of time. The sooner your story is submitted, the better chance it will have of being published.
Due to space restraints, some stories may not be published. Also, note that stories may be edited for purposes of length and clarity.